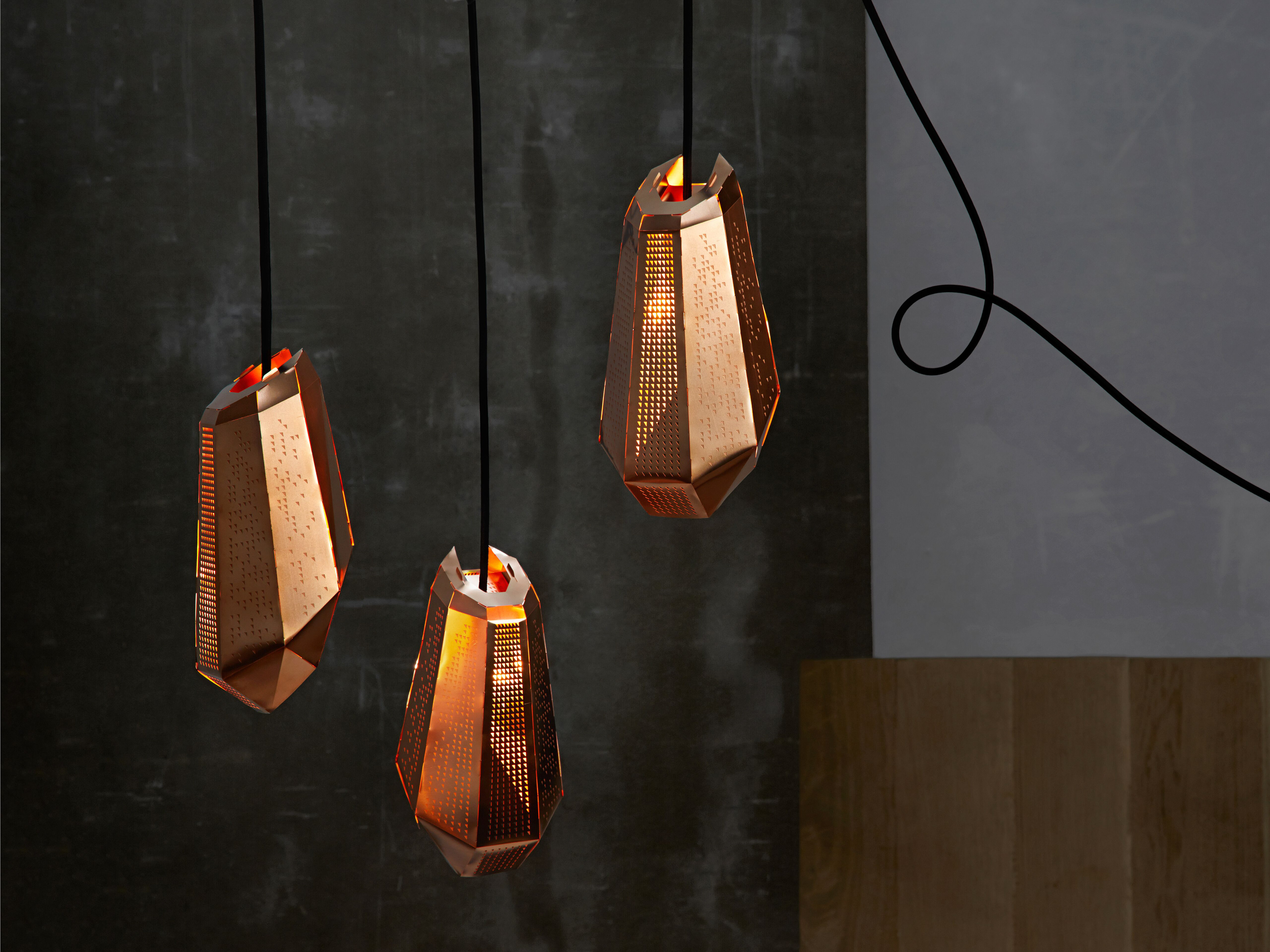 In 2013 I took part in a project called Selected by Bility where a few young designers got to design products that would then be produced and marketed by a local design studio called Studio Bility.

My brief was to design a light pendant. I came up with three ideas of shades that should be produced from aluminium sheets while their shapes were inspired by Icelandic winter weather; Haglél, Hjaldur & Bylur. One of them, Haglél (hail), I designed further.

In the second iteration of Haglél we decided to try to produce it from copper. I can't remember why - copper was really trendy at the time, and it was something that the manufacturer of the aluminium parts could also produce - and the outcome was so much much much nicer than the aluminium. So we decided to go with the copper version - meaning that the name Haglél (which I really loved) wasn't suitable anymore. I changed the name and came up with a new story/concept for it, just before its launch at DesignMarch in 2014.

The shade was now inspired by the volcanic eruption of Katla in 1918, because of its orange glowing properties and called Eldleiftur which are flashes of fire that are seen through the smoke of volcanic eruptions (don't quote me on this). This is not the first time a concept for a product is created afterwards…
The light was designed to be a flat-pack product, so it would be assembled by the end-user - but when it was clear that the light would cost quite a lot (because of the copper), and the assembly was actually a bit complex, we decided not to do that - thankfully. I can imagine there would have been a lot of unhappy customers with slightly bent - semi assembled - copper lights in their living rooms.
The shade was fully finished - I had even designed packaging and assembly instructions for it. The only thing that was stopping us from releasing it was that the manufacturer had difficulties with putting a clear coat of lacquer over the copper in order to protect it against finger smudges. And then we received some prototypes that got destroyed in the mail. Copper is expensive.
This light got quite the attraction although it never got mass produced - not yet anyways. If someone wants to set up an assembly line dm me.
I'm forever grateful for this opportunity Guðrún Lilja.